IBACS EXECUTIVE STEERING COMMITEE

IBACS Director of Research
Psychological Sciences
Inge-Marie Eigsti
Research Interests:
My research addresses a fundamental issue in human cognition: how constraints imposed by brain development and core neurocognitive processes impact language acquisition. As a scientist, I am intrigued by the interaction of language acquisition and brain development. As a clinician, I am motivated to understand the puzzles presented by atypical development, particularly autism spectrum disorder (ASD) and its consequences, because of what they mean for intervention. Although most research on language acquisition and neurocognitive processes is based on typically developing learners, the study of differences in development can lead to a deeper understanding of the mechanisms of growth and change. We use multiple converging approaches in my lab: experimental behavioral tasks, structural and functional imaging, and eyetracking, in our research.
R. Holly Fitch
Research Interests:
Animal models of neurodevelopment and cognition; Models of neurodevelopmental disruption (genetics, early injury) and developmental disability.
Head of Department
Philosophy
Lewis Gordon
Research Interests:
Africana Philosophy, Existentialism, Phenomenology, Philosophy of Science, Social and Political Philosophy, Philosophy of Education, Aesthetics and Philosophy in Film, Literature, and Music, Philosophy of Culture, Race, and Racism, Philosophy of Medicine, Psychiatry, and Psychoanalysis, and Global Southern Thought
Physiology & Neurobiology
Alex Jackson
Research Interests:
Research in the laboratory is focused on the cellular and synaptic neurophysiology of neural circuits in the mammalian hypothalamus that regulate fundamental behavioral states such as sleep, arousal and feeding.  Techniques are centered on using patch-clamp electrophysiology and pharmacology in brain slices in order to elucidate the cellular and synaptic properties of specific hypothalamic cell-types and their local and long-range synaptic connectivity.  This approach is carried out in concert with a toolbox of neuroanatomical methods and optogenetic strategies to manipulate the excitability of genetically targeted neurons.
Eric Levine
Research Interests:
My laboratory studies synaptic modulation in the hippocampus and cortex of the mammalian brain, focusing on the roles of endogenous cannabinoids and nerve growth factors in various forms of synaptic plasticity that are important for learning and memory. We are also using patient-specific induced pluripotent stem cells (iPSC) lines to study the pathophysiology of autism and related neurodevelopmental disorders.
Diane Lillo-Martin
Research Interests:
My main research interest is to better understand the human language faculty. Primarily I examine this by studying the structure and acquisition of American Sign Language, and by looking at the process of language acquisition across different languages.
IBACS Director of Training
Speech, Language, and Hearing Sciences
Emily Myers
Research Interests:
My research program focuses on the neural and behavioral mechanisms that enable listeners to map the speech signal onto meaning. In this program of study, I use neuroimaging techniques, principally fMRI, to investigate how the brain responds to acoustic variation within and between categories, and behavioral methods to probe the mechanisms that allow for parsing the speech stream into meaningful categories. These questions are applied to typical populations as well as to individuals with acquired language disorders (aphasia) or developmental language disorders (reading disorder, language impairment).
Alex Paxton
Research Interests:
Communication and social interaction as a complex dynamical system (including movement, language, attention, and emotion); Data-rich and dynamics-focused research methods and analyses; Naturally occurring datasets and "big data" for psychological theory-building; Ethics of human-derived data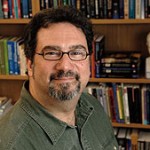 IBACS Director of Communication and Outreach
Psychological Sciences
John Salamone
Research Interests:
Psychopharmacology and drug development; Neurochemistry, signal transduction, and behavior; Behavioral functions of dopamine, acetylcholine, serotonin, and adenosine; Animal models of Parkinson's disease, depression, schizophrenia, fatigue
Institute Associate Director
Biomedical Engineering
Sabato Santaniello
Research Interests:
My laboratory develops modeling and analysis tools to understand the effects of neural disorders on the brain's electrophysiology, from single units to neural populations. We also focus on designing control algorithms for adaptive, robust, optimal neural prostheses, with application to Parkinson's disease, epilepsy, deep brain stimulation, and brain-computer interface. One ongoing project aims to develop algorithms for automatic localization of the epileptogenic onset zone and seizure onset detection in drug-resistant epileptic patients. Another ongoing project aims to understand the role of stimulation-elicited resonant effects in the motor striatum in the treatment of Parkinson's disease.
Diane Quinn
Research Interests:
Obesity and Weight Cycling; Concealable Stigma; Psychological Well-Being and Health

Director of Cognitive Science Program
Speech, Language and Hearing Sciences
Erika Skoe
Research Interests:
Plasticity of the auditory system, auditory evoked potentials, auditory neurophysiology.
Executive Committee Meetings
Executive Committee members, click here to get details about meeting dates, agendas and minutes.
IBACS INTERNAL ADVISORY BOARD
Jeff Shoulson -  Vice Provost for Interdisciplinary Initiatives
Ofer Harel  -  Associate Dean for Research and Graduate Affairs
Michelle Williams -  Associate Vice President, Research
Michael Lynch -  Director, Humanities Institute
George Kuchel - Director, Center on Aging, UConn Health Center
Amy Gorin -  Director, Institute for Collaboration on Health, Intervention, and Policy (InCHIP)
The remit of the internal advisory board is to advise both on shorter- and longer-term issues of strategic importance (i.e. advising both on Institute-internal matters but also on issues that may impact externally on the Institute – e.g. strategic developments at UConn, building and space developments, etc.). The board will also monitor and evaluate the extent to which the Institute is meeting both its own and UConn's broader institutional aims.
Internal Advisory Board Meetings
Internal Advisory Board Meetings
Internal Advisory Board Members, click here to get details about meeting dates, agendas and minutes.